Austin Divorce Lawyer
Helping You Understand Divorce Law in Travis, Hays, Williamson County, TX
Divorce can be daunting. It's an incredibly complex legal process, and leaving behind the life you built with your partner can be emotionally challenging.
However, divorce also brings with it the opportunity to form a new beginning. You can use your divorce to springboard into new opportunities and a happier, healthier lifestyle—assuming you prepare for it properly.
At Cofer & Connelly, PLLC, our Austin divorce lawyers have extensive knowledge of TX divorce law. We'll help you protect your rights in court and prepare for every part of your divorce, enabling you to lay the foundation for a better life once you dissolve your marriage. Our Austin divorce attorneys are experienced in all aspects of family law, including property division, child custody, child support, alimony, modifications, domestic violence or abuse, and more.
---
Filing for divorce in ATX? You don't have to shoulder the burden alone. Call (512) 991-0576 or contact us online to discuss your case with an experienced divorce attorney in Austin, TX today.
---
How to File for a Divorce in Texas
To file for divorce in Austin, Texas, you must first meet the state's residency requirements.
Must have lived in the state for at least 6 months
Must have lived in the county where you are filing for at least 90 days
As long as you meet those requirements, you should be eligible to file for divorce in Texas. In order to get a divorce in Austin, Texas, you must first file a petition for divorce with the court. You can simply head over to your county court and ask the court clerk for divorce forms. Once you fill out the forms, you can officially file your divorce. The petition must include the grounds for divorce, as well as the couple's agreement about how to divide their assets and debts. You may also need to attend a hearing.
The person who files for divorce is called the petitioner, and their partner is called the respondent. After filing for divorce, the petitioner must notify the respondent of the divorce filing by serving them a copy of the petition. The petitioner must utilize a constable, sheriff, private process server, or court clerk to serve papers to the respondent.
The respondent has 21 days to respond after receiving notice. If they fail to respond within that time, it may be possible for the petitioner to move forward with the divorce process without the respondent's acknowledgment. However, courts usually require petitioners to wait 60 days after filing for the divorce to receive a final divorce decree from the court. During this time, the couple must attend a mandatory divorce education class and wait for the court to issue a final decree of divorce.
Types of Divorce in Austin, TX
Discover the two main types of divorce in Austin: contested and uncontested. These refer to the level of agreement between spouses on key issues that arise during the divorce process. Choose the right one for you.
Contested Divorce
Contested divorces arise when the parties involved fail to come to an agreement on vital issues, such as property division, spousal and child support, and custody of their children. In such cases, the court is required to intervene and make decisions after weighing evidence and arguments presented by both parties. Negotiation, mediation, or litigation is often involved, and this process is generally lengthier and costlier than an uncontested divorce.
Uncontested Divorce
When couples facing divorce arrive at a mutual understanding on key issues such as child custody and visitation, division of property and debts, spousal and child support, an uncontested divorce is the recommended route to pursue. This type of divorce typically progresses quickly and with less court involvement compared to a contested divorce. The cost may also be lower, making it a desirable option to explore.
Collaborative Divorce
Additionally, Texas also recognizes a simplified divorce process known as a "collaborative divorce." This involves both spouses and their attorneys working together in a cooperative and non-adversarial manner to reach a mutually acceptable settlement. The process encourages open communication and may involve other professionals, such as financial planners or mental health experts, to assist in resolving any issues.
File for Separation in Texas
If the couple does not wish to wait for the 60-day waiting period, they can file for a legal separation in Texas. A legal separation is similar to a divorce in TX, except that the couple remains legally married. The process for filing for a legal separation is similar to filing for a divorce, but the waiting period is shorter.
Do You Need to Be Separated to Qualify for Divorce in TX?
No, spouses do not need to be separated in order to file. As mentioned above, the only requirements for filing for divorce in Texas are that the filing spouse must have lived in the state for six months and the particular county they file in for 90 days.
The only place separation applies in a Texas divorce case is that if a separation has gone on, uninterrupted for three years, that becomes grounds for divorce.
---
Our experienced Austin divorce attorneys are dedicated to helping you through the process and ensuring that your rights are protected. Contact us today by calling (512) 991-0576 or fill out our online form to learn more about how we can help you.
--- "Excellent all around. Highly recommend."

W. N.

"I am eternally grateful for all of the efforts they put in to go above and beyond for everyone they help."

Former Client

"They really listen to and care about their client's needs and consistently fight for the best outcome! I am eternally grateful for all of the effort they put in to go above and beyond for everyone they help."

C.D.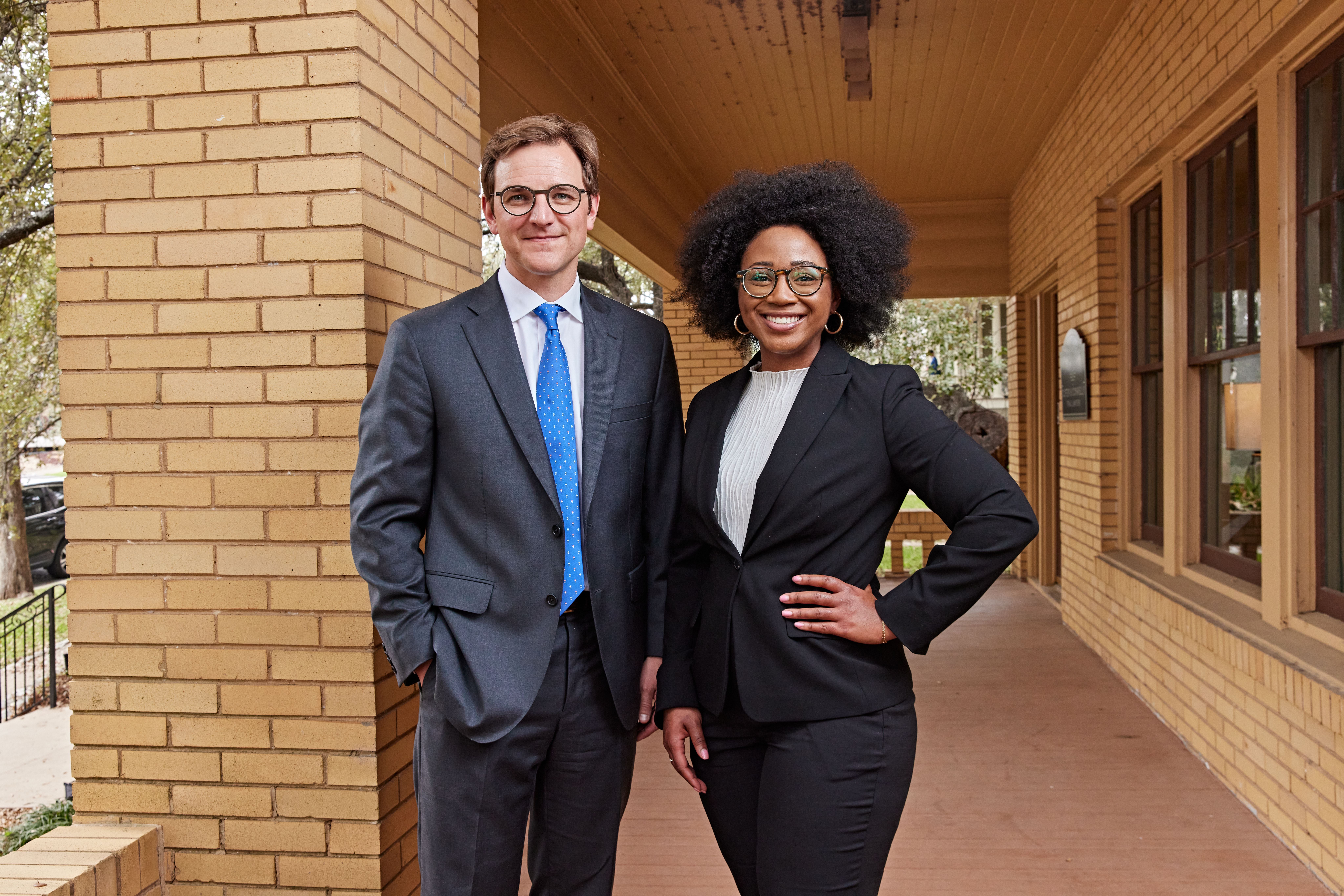 Grounds for Divorce in Austin
In Texas, you can file for divorce based on both fault and no-fault grounds. The most common ground for divorce is "insupportability," which is a no-fault ground. Insupportability means that the marriage has become insupportable due to conflicts and disputes and therefore, irreconcilable differences have destroyed the marriage.
Do I Need a Reason to File for Divorce in Austin?
Texas divorce law allows residents to file both fault-based and no-fault divorces.
Fault-Based Divorce in TX
In a fault-based divorce in Austin, TX, one party alleges that the other party has engaged in behavior that justifies the divorce.
Common fault-based reasons to file for divorce in TX include:
Adultery. If your partner cheats on you, you can file for divorce and cite infidelity as the grounds for your decision.
Cruelty. If your spouse engages in an act of domestic violence or abuse towards you, it's grounds for a divorce.
Imprisonment. If your spouse is imprisoned for at least a year, you can file for divorce.
Abandonment. If your spouse abandons you for at least a year, you can file for divorce.
Separation. If you and your part live apart from each other without cohabiting for at least three years, you can file for divorce.
If you file for a fault-based divorce in Austin, TX, then you should be prepared to back up any accusations you make while filing for divorce. For example, if you file a fault-based divorce for adultery, you should have some sort of evidence your spouse cheated on you to support your case.
No-Fault Divorce in TX
However, you do not need to use one of these reasons to file for divorce in Austin, Texas. You can file for divorce by citing "irreconcilable differences" like mentioned above. This means you do not believe your marriage can be saved, and filing for divorce is in the best interests of both parties. This is called a "no-fault" divorce.
Courts handle fault-based divorces slightly differently than no-fault divorces, especially if a spouse files for divorce citing domestic violence or abuse. If the spouse who files for a fault-based divorce can back up their claims, the court might penalize the other party more harshly than in a no-fault divorce.
In cases where domestic violence or abuse is an issue, the court might refuse to allow the parties to use a form of alternative dispute resolution (ADR) like mediation to prevent a power imbalance between the spouses from playing a role in the divorce.
You should work with an Austin divorce attorney to discuss the best path forward in your divorce. Every case is different, and your divorce lawyer can help you decide whether to file for a fault-based or no-fault divorce.
Issues Handled During Divorce in Texas
Divorce is one of the most complex forms of civil litigation because it also involves several other legal processes. During your divorce, you can also expect to handle the following kinds of legal disputes:
Property Division. During property division, the spouses decide how to split their marital assets (the marital home, shared vehicles, assets, and liabilities like bank accounts, retirement accounts, debts, pets, etc.).
Spousal Maintenance. Depending on you and your spouse's financial circumstances, one of you may have to pay the other party spousal maintenance (alimony).
Child Custody & Child Support. If you share a child (or children) with your spouse, you'll need to develop conservatorship and support arrangements that further your child's best interests and allow them to thrive post-divorce.
How Long Does a Divorce Take in Texas?
Depending on the amount and complexity of the issues that need to be resolved, as well as the degree of conflict between the spouses, it may take 6 months to 1 year or longer to get a divorce in Texas. In addition, a divorce in Texas isn't final until at least 60 days after the petition has been filed.
How much is a divorce attorney in Austin, Texas?
The answer is…it depends. We know people filing for divorce would like cost estimates to be more specific, but the only thing that can be said for sure is that most counties charge a filing fee of $250 to $320. After that, it's more appropriate to consider what might impact the costs of a Texas divorce.
Factors that Impact the Cost of Divorce
Those factors start with the basic question of how many disputes you and your spouse have.
Disputes can include property division, child custody, visitation, spousal support, and more.
If the filing spouse chose to do so on at-fault grounds, then proving that fault will take time and investigation.
Property settlements. For example, if one spouse owned the house prior to the marriage, but both spouses subsequently contributed to significant renovations that increased the value of the home. This could require calling in outside experts to help get to a fair settlement.
Couples with diverse financial assets that can include business ownership are more likely to have settlements that require extensive negotiations and forensic analysis.
A heated battle over child custody can increase the costs of the divorce. Expert testimony from professionals costs money.
So, on balance, the costs of a Texas divorce could be in the hundreds of dollars. It could exceed $20,000 for each spouse. Every couple is different.
Now, there are ways couples—even ones in a contested divorce over a large number of issues—can work to reduce their costs. Choosing the path of mediation is less expensive than litigation. Avoiding appeals after the process is complete will prevent the final tab from going higher.
Does It Matter Who Files for Divorce First?
Strictly speaking, no. Texas law does not treat the petitioner and the respondent in a divorce case differently when it comes to the issues involved in a settlement. There may, however, be some tactical advantages and/or disadvantages that come with filing for divorce first in Texas.
The person who files for divorce first may have a preparation advantage. Knowing what their plans are, they may use the time leading up to the filing to get a good handle on their financial affairs and understand what they'll be aiming to get in a settlement. Filing first offers the opportunity to file on at-fault grounds if they apply and can be proven.
These are distinct advantages, although this is another case of every coin having a flip side. The person who files first also has to "tip their hand" so to speak. The spouse that is served with papers has the opportunity to first digest the claims made before responding. The filing spouse is already on record.
The one area where filing first does offer a distinct advantage is that the venue will be determined by where the filing spouse lives. If you and you and your spouse are still under the same roof, it won't matter. But if you just moved to the Austin area and are being separated, while your spouse still lives in San Antonio, it might be nice to have the court hearings closer to your new home.
Does My Spouse Have a Right to Half My Assets?
When it comes to asset distribution and property division during a divorce, each state has its own unique set of laws and regulations. States can fall into 1 of 2 categories:
Community Property States. Texas and other community property states facilitate property division by dividing what is "equally owned" between the two spouses. This means that any property acquired during the marriage is fair game for both spouses, whereas "separate property" acquired prior to marriage will likely stay with the spouse who owns it.
Equitable Distribution States. Equitable distribution states give the courts more leeway to facilitate assets in a way that is fair and just. Keep in mind that the purpose of splitting assets equitably does not translate to equally. You're more likely to see a 50/50 split in a community property state than you are in an equitable distribution state.
As a community property state, Texas courts often facilitate a roughly equal split of a couple's assets and property—however, this is never a guarantee. It all depends on your unique circumstances and the amount of separate property that each spouse owns.
What Is Considered "Community Property" in Texas?
Community property, also known as marital property or jointly owned property, is a term that refers to property acquired during the course of a marriage. In Texas, a judge is likely to oversee a roughly equal split of marital property between each spouse.
Common examples of community property include:
A couple's home
Furniture
Artwork
Boats
Real estate
Retirement accounts, such as 401(k) or IRAs
The family business
What Is Considered "Separate Property" in Texas?
Separate property or a couple's individually-owned assets will likely remain with the spouse who owns it. While this may seem self-explanatory, complexities can arise during property division, especially regarding the distribution of retirement accounts and businesses. In some cases, it will be up to the court to establish what is community property and what is separate property.
What if I put money into my retirement savings before and during my marriage? Is my spouse entitled to half of everything?
More often than not, a judge will facilitate the division of retirement and/or investment accounts in the following manner:
Funds that a spouse invested into accounts before marriage is considered separately owned by that spouse.
All funds invested into an account during marriage will likely be split between you and your spouse. In the majority of cases, investments that occurred prior to the marriage will be deducted from the total amount to be split.
I own a business. Is my spouse entitled to half of it?
The answer depends on when the business began. Did you start the business during the marriage? If so, your spouse will likely receive a portion of your business regardless of their specific contributions.
However, if you started the business before marriage, you may be entitled to separately own profits incurred prior to getting married. Keep in mind that this is never a guarantee. For example, if you started the business on your own, but your spouse contributed to business earnings in any way during the marriage—even if it was simply caring for your home or children while you worked—then your ex may still be entitled to half of the business.
What Is a Divorce Consultation?
A divorce consultation is a meeting between a divorcing couple and a lawyer or mediator to discuss the issues of the divorce. During the consultation, the couple can discuss the legal aspects of their divorce, such as child custody, division of assets, and spousal support. The consultation can also provide an opportunity for the couple to discuss the emotional aspects of their divorce, such as the impact it may have on their children.
Our Austin Divorce Attorney Will Be by Your Side From Beginning to End
Divorce can be incredibly intimidating. Handling the emotional turmoil of ending your marriage while deciding how you want to handle various divorce-related processes is a lot to ask of yourself.
At Cofer & Connelly, PLLC, our divorce attorneys in Austin, TX are here to take the burden of your divorce off your shoulders so you can focus on what's really important: maintaining your health and well-being throughout the process. We'll advocate for you in court, giving you comprehensive legal counsel and protecting your rights.
Our Austin divorce lawyers can also help you find a way to proceed with your divorce that enables you to achieve your goals and live life to the fullest once your marriage is dissolved. Divorce is a marathon, not a sprint. You deserve a divorce law firm that will be by your side the whole way, through thick and thin.
---
Take action now to receive the compassion and advocacy you deserve. Call (512) 991-0576 today or contact us online to request a consultation with our divorce attorneys in Austin, TX.
---
Recommended Reading
65 Years of Experience

18,000 Cases

315 Trials