Prior to liberalization of marijuana laws, the question of whether a drug-detection dog sniff was "up to snuff" was relatively straight forward. The United States Supreme Court concluded in Illinois v. Caballes that "the use of a well-trained narcotics-detection dog—one that does not expose noncontraband items that otherwise would remain hidden from public view'—during a lawful traffic stop, generally does not implicate legitimate privacy interests."[1] An open-air sniff by a dog, trained only to alert to contraband items, did not implicate constitutional protections.[2] A defendant's challenge to an open-air sniff was generally limited to challenging the drug dog's reliability in alerting only to contraband.[3]
In states that have legalized marijuana, courts are wrestling with what effect, if any, legalization of marijuana should have on the constitutionality of open-air sniffs conducted by drug-detection dogs. Colorado has legalized the possession of an ounce or less of marijuana by those twenty-one or older.[4] In People v. McKnight, Mr. McKnight challenged the constitutionality of the drug dog sniff that led to the discovery of methamphetamine residue in his truck.[5] The dog who conducted the sniff, Kilo, had been trained to alert to multiple drugs, including marijuana.[6] The Colorado Supreme Court held that because a sniff from a dog trained to alert to marijuana can reveal the presence of a lawful substance (marijuana), the sniff is a search implicating constitutional protections, and must be supported by probable cause.[7]
Although Colorado appears to be the only state high court requiring probable cause prior to the deployment of a drug dog trained to alert to marijuana, law enforcement agencies in similarly situated states have taken the precautionary measure of "retiring" drug detection dogs that are trained to alert to marijuana. Drug-detection dogs give the same alert to the presence of any substance they have been trained to detect,[8] regardless of whether one of those substances becomes legal to possess. Virginia legalized the possession of up to an ounce of marijuana on July 1, 2021. As a result, Bedford County, Virginia Sheriff Mike Miller announced that his department would no longer use dogs trained in marijuana: "We won't use our dogs trained in marijuana because that could be an issue a defense an attorney would raise for a client to say, 'Which odor did the K-9 alert on—was it marijuana or was it an illegal drug?'"[9]
Although marijuana remains illegal in Texas, recent reforms to state law exclude "hemp" from the definition of marijuana, legalizing the possession of hemp.[10] At least one Texas intermediary appellate court has acknowledged that due to the similarities between hemp and marijuana—both are derived from the same plant—the ability of a person to identify marijuana based on odor alone "may be in question."[11] While the question of the "sniff is (still) up to snuff" was not raised in that case due to the lack of involvement of a drug-detection dog, the challenge will likely come soon.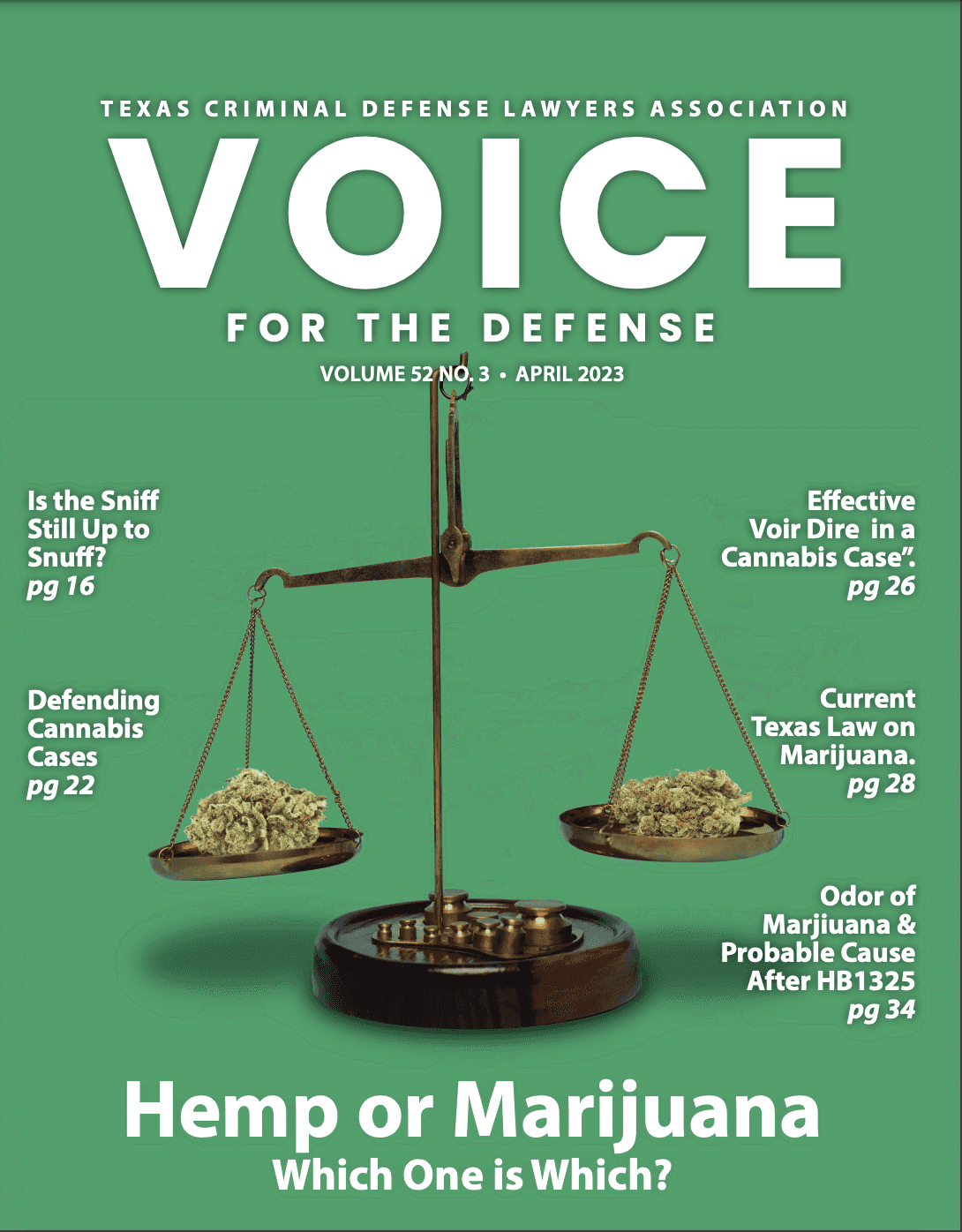 Rick Cofer is a partner at Cofer & Connelly, an Austin-based firm representing Texans statewide in criminal cases. He has practiced law for 15 years and tried more than 100 cases to a judge or jury.
Megn Rue is an assistant public defender in Travis County. She is a co-regional Vice President of the
National Lawyers Guild and a member of Gideon's Promise Future Indigent Defense Leaders.
---